Product

An Innovative Approach to Stop Active Bone Bleeding
Throughout the history of surgery, there has been a need for a solution to safely stop active bone bleeding. At last, an innovative, synthetic, resorbable hemostatic bone putty, HEMASORB, moves bone bleeding management into a new era. HEMASORB is today's solution for bone hemostasis.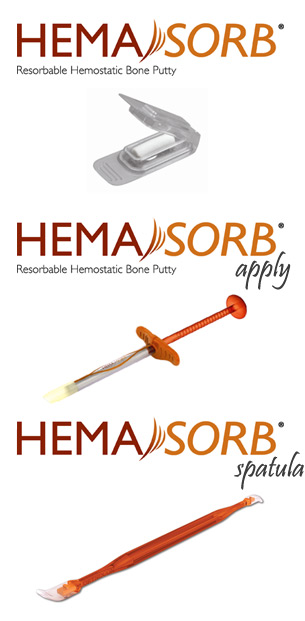 Easy to Use
Stops bone bleeding upon application 1,2
Remains in place
Offers controlled, precise application
Conforms to the site of care
Does not require warming or kneading
Ready to use out of package
Resorbable
Substantially resorbs within 30 days 1,3
Implantation sites assessed at 6 and 8 weeks 3
Does not swell
Synthetic (Tissue-Free)
Is free from tissue-derived components
Meets the ISO10993 standards for biocompatibility
HEMASORB provides an advanced, practical solution to actively and reliably stop bone bleeding. HEMASORB is easy to use, synthetic (tissue-free), and substantially resorbs within 30 days. 1,2

1 When used according to the Instructions For Use.
2 Based on animal and human data on file, ORTHOCON, Inc.*
3 Based on animal data on file, ORTHOCON, Inc.*
* Results from animal studies may not be indicative of clinical results.